Services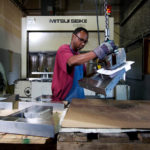 Engineering design
Fabrication installation and setup
Technical support
Water jet cutting
Material bending
Product development
Manufacturing and assembly
Hardware maintenance
CNC machining
Laser cutting
Quality inspections
Automation software engineering
Build to print
Machining Capabilities & Equipment
Water jet cutting system
up to 6″ thick material
10 x 20′ table
Laser cutting system
up to 1″ thick material
5 x 10′ table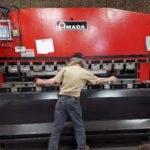 Presses
AMADA – 119 ton 10′ long press brake
Niagara – 50 ton 4′ press
Three vertical presses 100, 250 and 500 ton
Pemserter hardware inserter
Vertical Machining
Two mills (x=50″, y=25″, z=20″ with vacuum sytsem)
One mill with o pallet changer
One mill a (x=31″, y=18″, z=20″)
CNC Router 5 x 8′ with eight interchangeable tools
Laser Marking – precision laser marker 163mm lens
Turning center – two Ikegai 30hp 22″ swing centers, one with vacuum system and one with live tooling
Quality Systems
ISO 9001 quality systems including two CMMs
Zeiss 800 x 1200mm
Aberlink CMM 1000 x 2000mm on class A granite tables with conventional gauger
Includes height gauges with gauge blocks and pins
Horizontal Machining
Two mills with pallet changer
Four axis (x=59.1″, y=51.2″, z=45.3″)
Four axis 33.5 x 27.5 x 29.5″ 50 taper spindle
Saws
Two HEM auto feed models H90A and DC14HA
General saw
Grinding
Mattison 44″ rotary table surface grinder
Assembly areas fully equipped with vacuum systems
Vision
IP Automation strives to provide the highest quality engineering products and services. Our goal is to meet or exceed customer expectations. We continuously make improvements to our processes affording us sustainable growth.
We seek to be a supplier of choice. We endeavor to provide our customers with innovative design, rapid response time and zero defects with consistently, superior quality.
Our engineering firm commits to providing an environment in which employees and management work together. This cooperation helps to assure sustained growth and a solid reputation as a company where ideas become reality.
We service clients in Colorado, Arizona, New Mexico, Utah, Wyoming, Nebraska, Kansas, Nevada, California and throughout the United States.
Values & Beliefs
Maintain complete integrity in all our actions
Work in partnership with our customers to enhance their respect and loyalty
Maintain a participatory environment; rely on the innate excellence of our People,and provide a system in which they can excel
Help our employees achieve their full potential through continuous education, training and recognition of exemplary performance.
Make data–driven decisions to maximize our opportunities for success
Recognize our responsibility as good citizens and good neighbors of the communities in which we operate.
Maintain beneficial supplier partnerships to assure our needs and expectations for products and services are met.
Maintain a passion for continuous improvement and continuously improve our processes, products and services.