Utilizing CNC machining and innovative CAM engineering, IP Automation designs efficient, reliable railroad equipment for the railroad industry. IP Automation's hydraulic-powered railroad machinery eliminates the need for electronic controlled components, reducing our machines' complexity and increasing reliability. Our railroad maintenance equipment is lightweight and user-friendly for a single operator, making for easy maneuvering and minimal storage space. Engineered with innovative CAM design, IP Automation's railroad industry products maintain both safety and efficiency.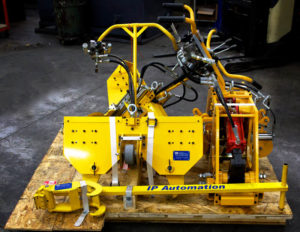 IP Automation's latest railroad maintenance machine is our tie drilling and spiking station. Designed for one of our major railroad customers, it quickly and safely drills holes in railroad crossties. The automatic machinery includes a vacuum system functional with various wood tie lengths.

IP Automation's railroad maintenance and installation equipment also includes the following products. Click on each heading to view a YouTube video demonstration.
For further information regarding IP Automation's railroad industry engineering products, please see our Railroad Industry Equipment page.