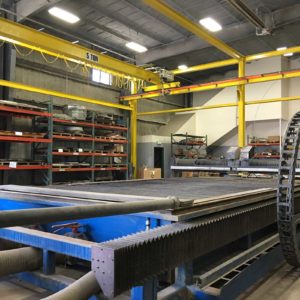 IP Automation provides premier waterjet cutting services for a wide range of applications. Our waterjet cutting system has an 10×20' platform, one of the largest in Colorado. Our water pressure cutter handles steel up to 6″ thick and is complete with a dual–head system for maximum accuracy. The large platform allows us to handle both large and small scale jobs.
Waterjet cutters are utilized for their highly accurate and versatile cutting capabilities. At IP Automation, our cutters carry out extremely detailed projects by utilizing the latest in CNC machining. IP Automation's cutting system operates on a wide range of thicknesses from sheets of 1/32 to 6". Our versatile cutting capabilities allow us to produce machine parts of any size.
Cutting with high pressured jets of water is essential to many project. Jets of water provide precision cutting without heating the material. Chemical and physical properties of materials can change when heated. Cutting with water is an ideal alternative. With no heat–affected zones, waterjet cutting keeps vulnerable materials safe from heat–related damage.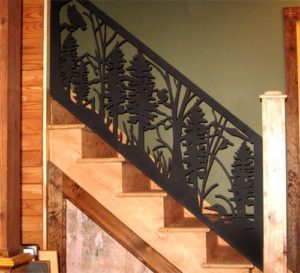 Waterjet Cutting Services
IP Automation provides waterjet services for a wide variety of materials including: wood, plastics, metal, stone, glass, rubber, foam and textiles. Our cutter's can service nearly every industry with its high versatility. The tools, machine parts and intricate designs produced by IP Automation waterjet cutters are utilized throughout automobile, construction, textile, energy, agricultural, railroad, aerospace and medical industries. For examples of the intricate capabilities of our waterjet cutter, please visit NatureRails.com.
Our engineering firm serves clients in Colorado and throughout the United States. IP Automation fulfills projects of all sizes and complexities.