---
September 16-19, 2018 – Chicago, IL
The AREMA Annual Conference is an important event to attend as it provides several days of committee meetings, technical sessions, keynote addresses and a myriad of breakout sessions to further industry knowledge. Our Sessions include topics related to Structures, Passenger & Transit, Track, Engineering Services, Communications & Signals and Maintenance-of-Way.
IPA will showcase several of our rail products plus a sneak-peek at what we have in development! Plan a visit with us today!
---
IPA 30th Anniversary Celebration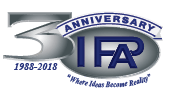 IPA is celebrating 30 years in business! Join us at our facility for this can't-miss event, August 24, 2018, 1pm – 6pm. Jointly celebrating our 30 years and the honoring of our founder, Ilia Petkov, who is retiring! Live music, food, activities, product demonstrations and facility tours will highlight an afternoon of celebration! Please RSVP!
---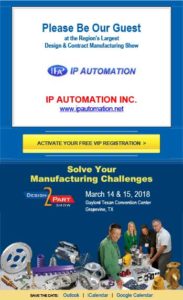 March 14 & 15, 2018 – Grapevine, Texas
Finally, IPA will exhibit at the Design-2-Part show, Booth #516.  Come and check out some of our newest production parts.  In addition, take in the breadth of what we can make for you.  Most of all our water jet and laser cutting expert will be on hand to discuss your projects!  Be our guest and Click here to activate your free vip registration…>
---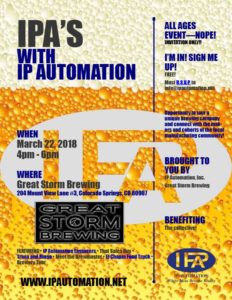 March 22, 2018 – Colorado Springs, Colorado
Join us for our first ever IPA's with IPA – Great Storm Brewing pdf…>.  Sign up for the event series! And sample some of the most noteworthy craft brewers in the state.  Therefore, smiles, stories and reservations are required!